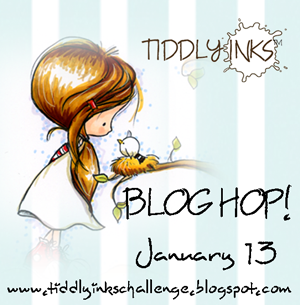 H

ello! Have you seen the wonderful new images by Christy over at Tiddly Inks? if you haven't then you really should take the time to hop on over to the Tiddly Inks store and check them out! They are just absolutely adorable! AND, in honor of these new images tiddly Inks is hosting a blog hop on Friday. Now, if you haven't ever participated in a blog hop at Tiddly Inks let me tell you how it works! This blog hop can include you! That's right, if you want to be part of the hop then you can be.
Here's how it works. The theme for our blog hop is, Friends are the Flowers of Life. Create a new project using any Tiddly Inks digital image. Then, post your card between 12pm CST and 5:55pm CST and link it up to the challenge blog at this time. Please be sure that the title of your post is, "Friends are the Flowers of Life - Tiddly Inks Blog Hop."
The hop will run until January 14, 6pm. We'll wrap up with a party at the Tiddly Inks PCP group. Stop in and chat and one random winner will get 2 Tiddly Inks stamps before anyone else.
BUT, that's not all for the prizes. Two random winners will receive a $10.00 gift voucher to the Tiddly Inks store and the DT will be giving out random prizes at some of their blogs.
Interested? I hope so! If you are we will see you this Friday starting at 12pm CST. Hope to see you then!